Name:
Shield
Appearance:
Well normally the shield is about 2 centimeters tall and wide and long. It is a wooden shield so it is brown in the middleon the perimeter of the shield it is silver. In the middleof the shild there is a silver circle that sticks out one milimeter
When hero inserts his chakra in to the button the shield transforms. The shield is no longer wooden. It is about 4- 5 feet tall. It also has 16 bands of brown rubber tapped on the perimeter (to counter lightning attacks) .It is now metal and that circle is still in the middle.It now pops out to be a inch taller and 1 cenitmeter wider.Igf the btton is pressed again it turns back to normal size.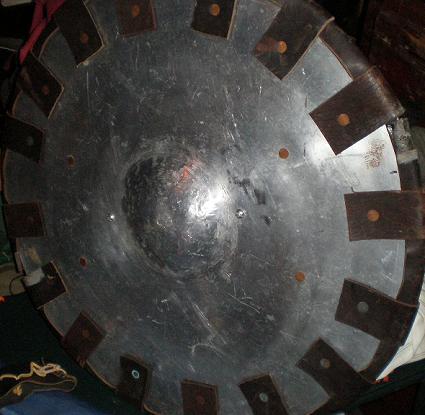 Rank:
C
Special Abilities:
When chakra is stored in the shield it two times stronger than it was before. Also it is two times heavier so hero won't be so fast to block attacks unless he's prepare in his stance.Lastly when chakra is stored it can resemble the user's main element example. Mine is fire so the shield will ignite on fire. Get it. That may come in handy while doing jutsu's or even combat.
Origin:
The day hero got his sword another mysterious thing happened. Hero was traning with his sword and saw a small little circle in on the sword. Hero tried to take the little thing off of his sword but it would not come off. So (accidently) tried to pull it from the center and he pressed on the little button in the middle. It suddenly grew 4 feet taller and it was constantly growing rubber on the shield.
Hero backed away thinking the shield was going to kill him. The shield slid off the fire sword and just sat there. Hero got a stick and poked it a few times. Hero was releved. hero wielded the sword in the air high and mighty. He knew was ready for battle.